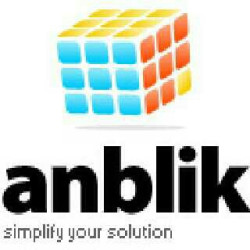 Anblik
Web designer
-
Kolkata
PRICE
Rs.
20,000
Onwards
Onwards

ABOUT
---
Specialization
-
Web Development
-
Web Designing
-
Graphic Designing
-
Logo Designing
-
Application Development
-
Digital Marketing
Professional Experience: 19 years Number of Projects Completed: 1000 Company Profile Link: http://www.anblik.com/ Previous Projects: www.rimsandgoggles.com/-Ecommerce Website-INR 80000 www.saudibeautyblog.com-Dynamic Website-INR 30000 www.johnandeden.com-Dynamic Website-INR 35000 http://www.bhaktivedantagitaacademy.com - Dynamic Website -INR 25000 http://www.saudibeautyblog.com - Dynamic Website -INR 45000 http://iglowstudios.wpengine.com - Dynamic Website -INR 55000 http://www.colournation.com - Dynamic Website -INR 35000 http://www.theburlesonfiles.com - Dynamic Website -INR 70000 http://www.colemanfurniture.com - eCommerce Website -INR 165000 http://www.typefreediabetes.com - eCommerce Website -INR 155000 http://www.unixmen.com - Dynamic Website - INR 250000 http://www.japanmacroadvisors.com - eCommerce Website - INR 115000 Specialization: Web development Web Designing Logo Designig Graphic Designing Application Development Digital Marketing -SEO, Website Usability -Responsive Web Design -WordPress -Photoshop -Dreamweaver -PHP, MySQL Type of Professional: Company Starting price of basic E-Commerce Website: Rs. 25,000 - Rs. 40,000 Starting Price: Rs. 10000 onwards Introduction: Our web design services address a wide array of other related business needs such as accessibility, SEO or Search Engine Optimization as it is called, usability etc. Regardless of whether you just need a web design company to come in and design something which meets strict accessibility standards or a complete SEO solution or even a usability analysis of your present website we assure you that we have the expertise to enhance your business presence in every way. Our experience with an array of internet technologies helps us to maximize your website's accessibility, usability and search friendliness.
5
REVIEWS
---
We are pleased to acknowledge your sincere effort for making our official website a grand success. We developed an e-commerce WordPress wesbite and then shidted it to REACT. Both the web development projects were handled by them and it was beyond satisfactory both the times.
We have contracted Shivaji to help us build 4 of our websites now, over the last 3 years. He is our "go-to" guy for any website designing, website development or digital marketing need. He has always been exceptionally prompt at returning emails and lightning fast at completing the website designing and development projects. The communication and clarity is very good, and he is excellent at coming back to tune up or fix the websites as needed. If there are every any problems, he addresses them immediately. Also, his pricing is good. I highly recommend using him for any web development or web designing project.
Shivaji did an excellent job. He understood the requirements well and did his best to complete the job as early as possible. Most definitely recommended.