Deepali Spiritual Centre
Astrologer / Pandit
Noida
Business Name
Deepali Astro
Introduction
Deepali Dubey is God gifted with the psychic & intuitive instincts. She is provides the best astrology in Noida. So, she uses her intuition and psychic senses with Tarot Cards Reading and Crystal Therapy. She has over 19 years of experience in Angel ... read more
Number of times hired on Urbanclap
1
Specialization
Horoscope Making
Kundali Matchmaking
Mahurat
Horoscope Reading
Gemstone Astrology
Tarot
Key Consultation Areas
Marriage/Relationships
Money/Property
Family/Children
Career/Business
Health
Legal
Urbanclap Customer Reviews
CK
chandni khare
20th Oct, 2017
I went deepali spiritual center for my friend through urban clap.so i would like to share two reviews one from my friend's side and other from my side. My friend's review: Deepaliji is very intuitive, skilled, helpful and qualified astrologer. Her predictions are so accurate that it is simply unbelievable. She saw pictures and just by that she predicted​ things which were true and very helpful. Her kundali interpretation and tarot reading was also shockingly accurate. I thank her for guiding me and my friend with whom I went. I would highly recommend for her services. Now mine: Personally i do not believe in astro or such things so just went with my friend,but after meeting her i realised such things do exist.she saw something in me may be my upside down life and predicted in general that were actually true. She did tarot card reading which was shocking for me as mostly it was right. my life is in lowest phase and in this phase she gave me hope, confidence and direction.deepali mam gave me courage by reminding me qualities and other hidden inner strength in me. At the end i just want to say even if you are not a such a strong believer in such things like me but if you have any problems for which you need guidance visit her as she will bring out the best in you.
RM
She is really awesome specially in paranormal cases, people having paranormal things on them automatically starts reacting immediately after Deepali Ji see in there eyes. She is a great astrologer as well as Tarot Card Reader. She mix n match all her knowledge to give you best of the best remedies. Thank you much Ma'am....
TA
I know her since a year only but quite impressed with her Paranormal analysis, she is just great in her work and just by seeing the person she start telling the things about the person. I was not believing in all these things being a muslim till the time I met her. But seen 8-10 solved Paranormal Cases and now there is no option left for not believing. There is nothing like Hindu Muslim Sikh or Christian. I would Highly Recommend her services to each & every community of society.
AG
amish gupta
12th Oct, 2017
I know her since the days of my college, She is my Friend's Wife in Noida. She is the most reliable person whom I know in terms of terms of Astrology / Tarot Card Reading. There are lots of incidences, where in she predicted the things for which I was not sure but that happened. I would highly recommend her services.
RK
rajesh kumar gupta
29th Sep, 2017
The session is going to be of on one hour, the process flow is as follows,  the participants would pick up the tarot cards to analyse the past present and future. Followed by a series of questions to analyse a current situation or scenario. Simultaneously,  there would be a crystal ball gazing session and the astro numero consultation. Followed by a complete aura reading to indicate the illness, health, prosperity and overall wellness of the participant. In the last 15 min, an advise or suggestion would be provided to the participant for the queries raised.
Similar Professionals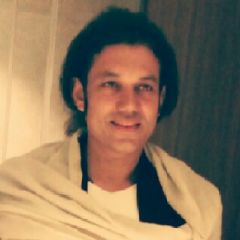 Naved Zahur Ansari
India
Rs. 5100 onwards
Recent review by Manmoahn K Bakshi
Dear all, Naved Zahur Ansari, s not just an ordinary name in crowded socie...read more
Kumar Devesh
Sector 47, Noida
Rs. 500 onwards
Recent review by Sowmya
"If you're thinking about booking a reading with Swati, I have two words fo...read more
Beauty & Wellness
Repairs
Home Maintenance
Homecare & Design
Weddings